What has possessed me? Initially I'd hoped to write a brief, cohesive bio that told my story. But brief gets harder with every year and every song. So instead, elements of my history that matter to this project appear a chapter at a time.
Recent addition: Chapter 15!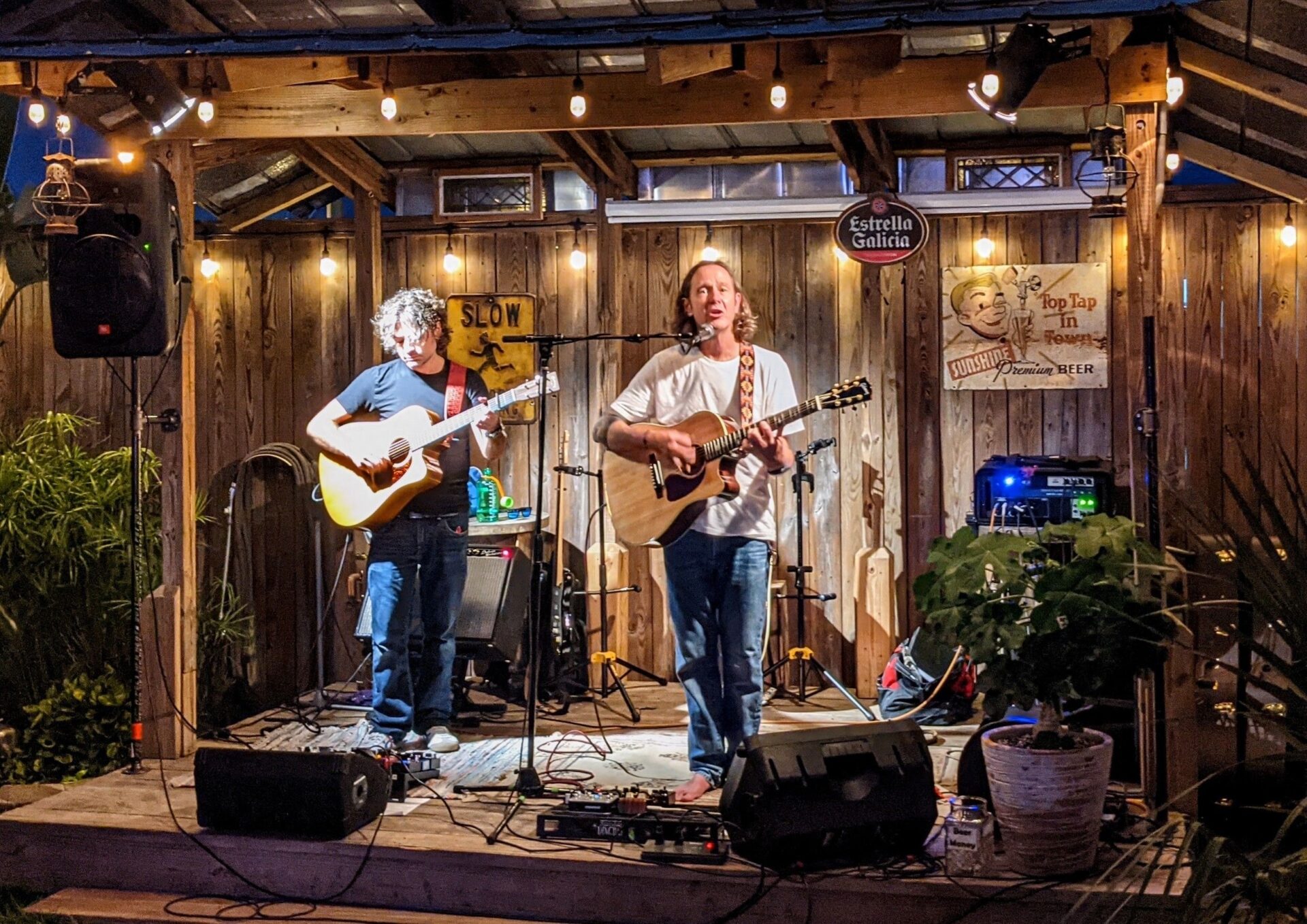 In 1963 the Beatles conquered the world. By contrast, I was 5, and probably couldn't ride a bike yet. Even so, music already held a fascination for me, and the AM radio was alive with the sounds of the British Invasion. Certain songs from the early Stones, Beatles, Herman's Hermits, Animals, etc. still transport me back to those days.
In 1966 the Beatles had a number one single with Paperback Writer. I was 8. The B-side of the 45 was Rain, and I was transfixed. I can remember lying in bed, conducting my own American Idol, pretending to be multiple contestants and vying to sing the best version of the song. I always won. The photo below explains my lifelong hatred of clowns, and of my mother cutting my hair.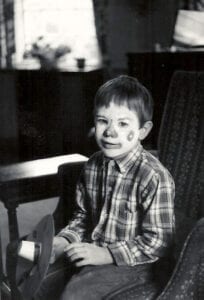 The recognition that real music could be performed by a contemporary came at a middle school dance in 1971. I was in 7th grade, wearing red, white, and blue bell bottoms, and I watched Will Dithrich, an 8th grader, play several songs from James Taylor's Sweet Baby James and Jackson Browne's Saturate. I was astounded that these note-for-note renditions came from a peer, and it was about this time that I began to play my Dunlop, a tennis racket hung from my neck by a string. A defining moment, truly. The photo below highlights my fashion and hairstyle circa 1973.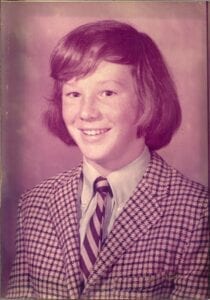 Sewickley, PA was a wonderful spot to grow up. Largely affluent and cloistered from the real world, the kids here enjoyed an unrestricted social setting that allowed creativity to flourish. Much has been written about the explosion of music in the 60s and 70s, and I was steeped in the sounds of the times from the safety of this lovely, insular town. A long list of musicians became my idols, and were larger than life.
Many of my friends began to play the guitar, and in 1976 I followed suit. At graduation I bought my first guitar - a Wilson acoustic modeled after the Gibson Hummingbird - for $50, and began to focus on the acoustic music of America, The Beatles, Jackson Browne, CSN&Y, The Eagles, Dan Fogelberg, The Grateful Dead, James Taylor, and more. I was in heaven. One of my greatest supporters in those early years was Jill Collins, a fellow guitarist and wonderful friend. I'm forever grateful to her, and she's inspired many of my songs over the years. That's Jill below, with her Martin D-28, at Tortilla Flats in Sewickley Heights, circa 1976.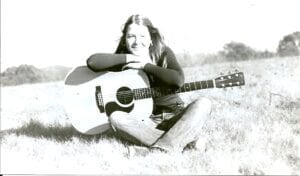 I attended Denison University in 1976, and happily spent the next four years without supervision. Here I met the next influential musician and friend, Wink Dulles. Wink was an excellent guitarist and, together with Scott Curtis, we formed an acoustic trio in 1977. Initially we were called Storage, after a label placed on one of Wink's guitars stored at school over the summer. We later changed our name to Knockwood Annex. Knockwood was an acoustic trio, and although we played a few times on campus, we lacked the equipment, money, and skills to do it right.  Consequently, Knockwood became our pastime, and I learned a lot from the advanced skills of both Wink and Scott. Senior year I met Jenny Cunningham, who would become the subject of numerous songs. After graduation, Scott simply disappeared, and Wink and I remained friends until his untimely death in 2001. Both photos below are compliments of Jenny.
No mention of Denison would be complete without discussion of George Greenwood and Brad Sageman. George was the first person I met at Denison (Hi, my name's George. Wanna get high?); we majored in Geology together, and remain friends today. Brad entered the picture a year or so later, also via the Geology department, and the three of us began playing guitar together. There are some surviving originals, and tales, from this era that may one day find their way onto this website.
In 1980 I graduated with a degree in Geology, crammed all of my possessions into my orange Opal Manta, and moved to Dallas, TX. There I joined another Denison grad, Mike Lewis, at a small, independent oil company as a wellsite geologist. We left a short time later to form our own company, Discovery GeoServices, and provided geologic evaluation and support for petroleum exploration. I spent a lot of time in the field, and wrote numerous songs about the past and crumbling relationships, a few I still play today.
By the summer of 1982 the oil glut had tanked the market, exploration slowed, and I found myself out of work. Denison grads George Greenwood and Brad Sageman were living in Boulder, CO, and I headed north for an extended reunion. I spent the next several months camped on their couch, partying wildly and testing the limits of their tolerance before finally landing a job at Tulagi and moving out. While I could write a book about that summer, I don't think any songs came from it.
We kept playing guitar though, and sometime in 1983 Brad and I, along with Mike McMillan on percussion and keys, revived Knockwood and began playing regularly at Tulagi in Boulder. Creativity flourished once again, and some tapes of these performances remain. I oversang everything.
Despite my love of Boulder, I didn't see the opportunity for a successful career, so in 1985 I reluctantly left for Florida. There I moved in with my dad in Belleair for another extended and hilarious stay, only this time I had a bedroom. Dad was wonderfully supportive, and in time I got my act together. I wrote a dozen or so songs while under dad's roof, many of which I still play. The photo below is my bathroom studio, circa 1986. That's my third guitar, now long gone, a Takamine acoustic electric, in the tub.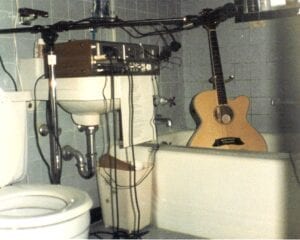 In 1990 I incorporated Mountain Rise Music and released my first official album, Just Enough Strength. I recorded the album on 4-track cassette in my second bedroom on Osceola Ave in Belleair. I'm still proud of the songs and my effort, however the recordings are drenched in reverb and cheesy percussion, and I can barely listen to them today. In 1992 I released my second album, When The Heart's Involved. As before, good songs, not so good production. I have the masters for both albums, and perhaps one day I'll remaster these recordings. The photo below is a stencil of the original Mountain Rise Music logo on a guitar case.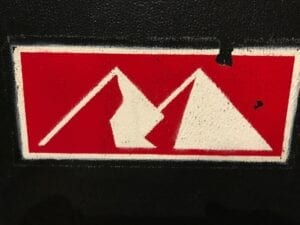 The 90s were prolific and chaotic, but let's cover some ground. By 1998 I had lived in three Florida cities with two Florida girlfriends, and was again solo with a few good songs to show for it. In June I found the four-legged love of my life, Teddy, at the Pinellas County Humane Society, and the following year the two-legged love of my life, Nanette, in downtown Tampa. We married in September 1999, bought and built two houses, and were divorced in December 2004. The songs Empty Metal and Shadows document the end of that tale.
Welcome to my Dances With Wolves period. In late 2004 I closed on a house on 1.5 acres in the wilds of northeastern Hillsborough County, bordered by 50 acres of pastures and woods. With my dogs I spent the next 9 years healing then thriving, wandering in my own private wilderness. During this time I studied the Law of Attraction, and worked hard to shed the weighty past and reinvent myself in the present tense as the shiny fucker you see today.
With a lot of encouragement from brother Charlie, in 2006 I launched the first version of mountainrisemusic.com, and Charlie took the photo below for the website. Also in 2006 I released We Go On, which was recorded on an 8-track Tascam digital recorder. Great songs, and some pretty good performances. Lots of these are still in the lineup.
I kept writing and recording with the intention of releasing another album tentatively titled Now In Progress in 2008 or so, but my focus changed and the project stalled. I've released those tracks on my associated SoundCloud site, and the link is in the footer.
In September 2013 I purchased my home on Clifton St, and jumped off the turnip truck in the big city. I love my home, and may leave it on a gurney. Sometime in 2017, I think, the mother-daughter duo Sonia and Christina Piasecki opened their Cuban restaurant Above The Salt, and began having an open mic on Thursdays. With some encouragement from Christina and her now fiance Rebecca Fishel, I began playing live again for the first time since 1985. My appreciation to these two for resurrecting my live act knows no bounds, and sometime later I began playing regularly with another friend and neighbor, Steve Prince. How we elected to focus solely on original material is a matter of some dispute, but at this point I'm all in. Steve's an excellent guitarist, and has worked hard to learn much of my catalogue, adding considerable color and depth to my songs. Huge props to you, brother.
My songwriting into the present has reflected both my gratitude and improved life, and Steve and I are currently working on an album titled South Of Richmond, to be released hopefully before I write all the material for the next record.
On November 16, 2017 Steve and I played our first gig at Southern Brewing and Winemaking, owned by Kelly Dempsey. We've since played a dozen more times, and are grateful to Kelly for her support!
Steve and I have been working on an album titled South of Richmond since September 2018. All of the songs are written. The delay's not Steve's fault, but is more a consequence of my job and various other distractions that consume my limited bandwidth. The demos thus far are excellent, and I'll be back at Rider and Abby Records soon. If all goes well, the last layer to these tracks will be Christina on drums. She's fucking good.
The best is yet to come!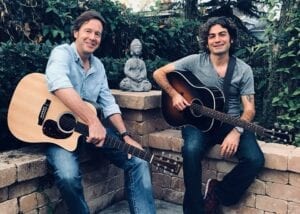 2020 started off pretty much like any other year. Sure, the politics in the US were a shit-show, but November was coming and along with it hope for the future. Then came the pandemic, and overnight the world changed. I'll spare you my take on the global and US response. Steve and I played our last gig at Southern on February 29th and haven't played live since. In late March I began working from home full time, with infrequent and socially distanced visits to the office as necessary. I've discovered that isolation is a tricky thing – there are days when time and the calendar are meaningless – and I long for the physical touch of my loved ones: my friends and family. Still, I recognize and appreciate my good fortune – I'm employed and healthy – and continue to create and find joy. Here's to the future.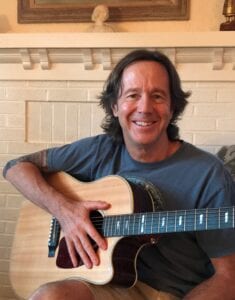 2020 lasted longer than any year should. With my good fortune of working from home, after a few tentative months I settled into a groove of safe behavior: ordering groceries, avoiding crowds, masking up and social distancing while enjoying bits of contact with friends and family. Dogs help a lot, and walking them helps me keep in touch with my neighbors. I really love my neighborhood.
While this may offend any puritans in the group, having access to fresh and delicious local beer is a must – pandemic or otherwise. 7venth Sun Brewing is a mile from my house, and throughout 2020 was one of the few places I would visit for safely procured supplies. Their magnificent beer and wonderful staff have been a blessing in an awful time.
Without social activities or gigs, I've had a lot of time on my hands. In 2020 I wrote four good songs – Tribe, Scarlet, Good Enough, and Grateful – and have continued honing my catalogue in anticipation of performing again. I've now at least 40 originals ready to play live. Steve's gonna have some catching up to do.
I've also spent some time in the studio, recording the basic tracks for Time and Gravity and Vultures, to be included on South of Richmond.
For the first time since February, on November 28th I played solo at Southern for a small group of friends and patrons willing to mask up and venture out into the open. Covid's no joke, and I was greatly appreciative of those present. It felt wonderful to play live again.
Hopefully 2021 will see widespread vaccinations and allow us to feel more comfortable being together. I've missed you all, and have a lot of hugs to give.
2021 was for many another lost year. Covid still reigned supreme, but by mid-year the widespread availability of vaccines allowed some freedom of movement, and some live music.
My good health and the relative isolation remained fruitful turf, and I wrote eight new songs I consider among my best work – Write It Down, Please Hear What I Say II, The Middle Road, A Few of the Reasons, Wish Them Well, Welcome to Infinity, You're Already Gone, and Jenny Says. Most regularly appear in our sets.
I played 10 shows in 2021, both solo and with Steve. In addition to Southern Brewing, we played shows at three new venues: Shuffle, The Independent, and New World Brewery. Each venue has their core clientele, so we were able to meet some new friends and spread the music. We were, and continue to be, grateful for every opportunity to do what we love.